List of 15 Best Online Men Clothing Brands in Pakistan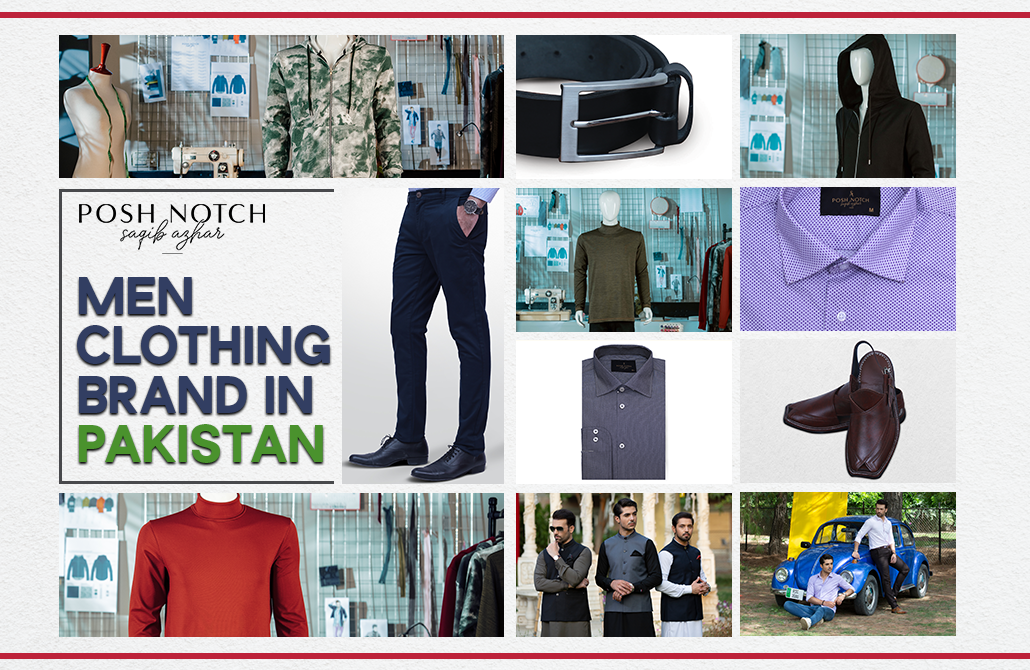 In recent years,
men clothing brands
have changed the styling of men in Pakistan. The credit goes to the males who sought change and like experimenting with new attires. Pakistan's fashion business is constantly striving to be the greatest in the world, and it aspires to take men's fashion to new heights. Due to their efforts, men seem to give tough competition to women in clothing, style, and designs. From
eastern wear
to western wear, men have a lot of variety to choose from.
However, some brands have played a vital role and have earned the customers' trust. But some men are still in search of some amazing brands for men casual and
formal wear
. The search is over! In this article, we will discuss the
best clothing brands in Pakistan
.
Junaid Jamshed (J.)
The
best clothing brand for men
and women in Pakistan is J. If you are looking for eastern wear premium quality apparel, then J. is the brand you have been looking for. This brand offers an exquisite range of stitched and unstitched shalwar kameez, kurtas, and
waistcoats
. The aesthetic designs and colours help men showcase their taste in style while the quality enhances the confidence and remain light on the wallet.
This brand is smart enough to cater for the aesthetic quench of the wearer following the solid, vivid, and soft hues. However, floral designs and prints are also becoming a trend nowadays and J. offers sturdy yet durable products. So, it's a big yes for J.!
Ideas by Gul Ahmed
Whenever we talk about the vast range that expresses the ultimate sophistication and true essence of ethnic designs and prints, the name from the list of best clothing brands in Pakistan that comes into mind is Ideas by Gul Ahmed. This brand offers a wide variety of formal to informal wear for men with stitched and unstitched options. Where men are stick to darker hues, Gul Ahmed allows men to wear pastel colours and bright colours in formal and informal events.
Alkaram
One of the oldest yet best men clothing brands in Pakistan is Alkaram. Not even a single Pakistani, whether overseas or local can target both men and women, kids, and high-quality home accessories. The bespoke suiting and customization of the dresses facilities are also offered by this brand. Their outlets are not limited to Pakistan, the international store is located in UAE. However, due to rapid and lowest delivery charges, they are prone to facilitate everyone who wants to show up in Alkaram clothing.
Outfitters
The true representation of the taste and style of youth is Outfitters. For nearly two decades, this brand is bringing the most unique and awesome articles while becoming a trendsetter every season. It has the most interesting, funky and trendy fashion in
t-shirts
, pants, sweaters, pullovers, footwear,
jeans
, cardigans, etc. Outfitters has ace popularity as the best
online clothing brand for young men in Pakistan
. The products range from clothing to footwear, everything is highly affordable.
Deepak Perwani
The person who has redefined the fashion industry is one and only Deepak Perwani. The former actor realized his design talent and initiated his brand which is considered one of the best clothing brands in Pakistan for weddings. His lavish designs and unique styles in classic and modern clothing are famous worldwide. The formal wears become the season's sensation every time he launches his new collections. Perwani has outlets in Karachi, Lahore, Islamabad, rest of the world can shop online.
Amir Adnan
No wedding and other wedding functions are completed without a sherwani suit,
shalwar kameez
, and waistcoat. The royal and regal sherwani is a traditional attire loved by all men who are going to get married. This brand is the symbol of style and aesthetics. It carries a wide range of not only sherwanis but the formal western wear including three-piece suits, formal dresses, trousers, and shirts with bespoke and customization options, accessories and much more make it the most loved and
best clothing brand for men
.
Bonanza Satrangi
The brand which has always maintained its style game at the top is Bonanza Satrangi. Every season, it comes with versatile collections with unique designs that become a wardrobe staple for men and women. From
traditional women clothing
to formal clothing, this brand offers stitched and unstitched collections at highly affordable prices. In the list of kurtas, waistcoats, and shalwar kameez, it has secured the best seat in the list of online clothing brands.
Ammar Belal
Ammar Belal is a brand nobody can ignore due to its promising designs and highest international quality. Here, the most significant trait is that it is the only fashion brand that outsources its manufacturing to Europe. Among Pakistani men, this brand is popular for adding a class in both casual and formal wear. Therefore, if you want an incredibly killing look in any gathering then buy an outfit from Ammar Belal which seems to be the best clothing brand for men in Pakistan.
Levis Pakistan
In western tailored yet stylish clothing, Levis Pakistan comes with innovative designs and quality fabric for Pakistani men. It is among the best clothing brands in Pakistan for casual clothing especially jeans and t-shirts. This brand offers Levis which is the most durable and beyond imagination. The prices are comparatively a bit higher than the other denim in the market. There will be no men in Pakistan who haven't tried Levis.
Leisure Club
Leisure Club is the most valuable and popular brand for casual wear essentials for men of all ages. This brand has a very practical wardrobe offering casual shirts, t-shirts, leather jackets, bermudas, denim jackets, and much more. Eastern wear is limited but western wear is highly affordable that men cannot get in any other physical and online clothing Brands in Pakistan. It offers street style fashion to modern Pakistani men.
Charcoal
In the list of the
best clothing brands in Pakistan
, Charcoal is the retailing men's clothing and
accessories
brand in Pakistan. This brand offers the best and finest western wear that can make you elegant and decent in any event. Over 30 plus outlets, Charcoal is most loved by the customers because of its formal shirts, three-piece suits and
t-shirts collections
.
Chester Bernard
More than 17 years of success, Chester Bernard has all
casual and formal western shirts for men
. These clothes allow you to present an amalgamation of quality and extreme style at highly affordable prices. The designs of the articles are unique and come in unique 16 sizes for shirts. All products are highly durable and remain new even after 30 washes. This brand also offers a large range of sports collections that makes it the most desirable
online clothing Brand in Pakistan
.
Royal Tag
The trademark of the formal attires is none other than Royal Tag in men clothing brands. This brand introduces unique material with high quality and greater durability in premium men suiting, informal clothing, and smart dressing solutions which are available online and in 15 plus outlets all across Pakistan.
Ismail Farid
One of the well-established and high-quality brands for men in Pakistan is Ismail Farid. The unique colours and patterns of eastern wear include waistcoats, sherwani, kurta, western wear includes blazers, suits, sweaters, and printed shirts are the most loved and leading brand.
Sapphire
The modern collections of eastern and western wear that come with a combination of style and class can be found at Sapphire only. Its kurta collection is unbeatable and available in physical and online stores all across Pakistan.
Planning to revamp your wardrobe? Do not miss visiting the above-mentioned stores. They will never let you feel disappointed.